Government Energy Aggregation Program
Welcome to the City of Hoboken's Renewable Energy Program web page. In May 2018, the City of Hoboken adopted Ordinance #18-294 authorizing the establishment of the Renewable Energy Program for the purpose providing more clean, green energy at a lower electricity price than what PSE&G is currently offering. This program is a major step toward achieving the City's goal of reaching net-zero energy by 2030, as established by Hoboken's Climate Action Plan.
On August 18, 2021, an electricity supply auction was held and the City of Hoboken signed a contract with Direct Energy to provide an additional 10% renewable electricity (like solar and wind) as the Standard Offering. In this program, PSE&G will continue to distribute residents' electricity and will remain their utility, but residents will buy their electricity supply through the Hoboken Renewable Energy Program. The program also offers residents the option to choose to have 100% of their electricity derived from renewable sources.
Program Options & Pricing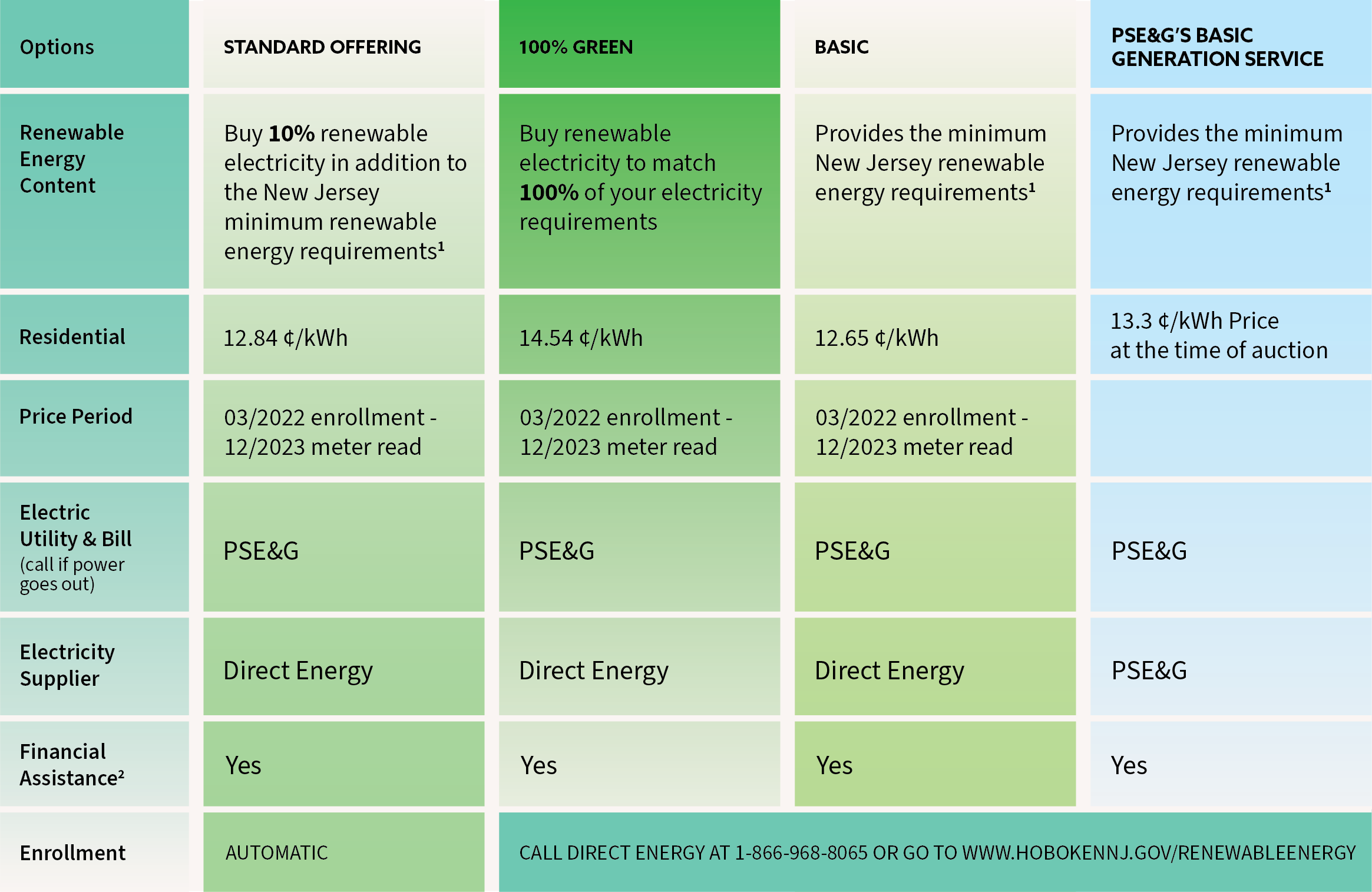 Residents who decide to participate in Hoboken's Renewable Energy Program have access to an online savings tool which will provide each participating resident with their monthly usage total, comparison of charges through the program versus PSE&G's Basic Generation Service price, and usage trends. Residents also have the ability to opt-in and opt-out of the program online and can switch between the different renewable energy options available through the program. More information about how to access these online features is provided in the video posted below under "Communications". A program information packet is also posted under "Communications".
Residents can call 866-688-5197 with questions about the program and for additional information about the City of Hoboken's Renewable Energy Program.
---
Important Dates
In light of the recent COVID-19 situation, the City of Hoboken has cancelled its in person Hoboken Renewable Energy Program Information Sessions scheduled for Monday January 10th and Thursday January 13th, 2022 . Please join us for our Online Zoom Informational Session on Tuesday January 11, 2022.
Cancelled - Monday, 1/10/22 (snow date 1/24/22)
2PM-4PM
---
Jackson Street Gym, 605 Jackson Street
Tuesday, 1/11/22 (snow date 1/18/22)
6PM-8PM
---
Zoom - Public Information Session
Click
here
and enter Passcode:
k6y?e1Lt
to view recording.
Cancelled - Thursday, 1/13/22 (snow date 1/20/22)
2PM-4PM
---
Multi-Service Center, 124 Grand Street
Cancelled - Thursday, 1/13/22 (snow date 1/20/22)
6PM-8PM
---
Multi-Service Center, 124 Grand Street
Other Key Dates
January 1-30, 2022
Initial 30-day opt-out period
---
March 1, 2022
Program rate takes effect with meter reads after 3/1/22
---
November 30, 2023
Program rate expires with meter reads after 11/30/23
---
---